Wine drinking and viticulture are as synonymous with Argentina as Lionel Messi, tango dancing, and huge slabs of tender grilled steak. In fact, there's few things Argentines enjoy more than engaging in animated conversations while sharing a bottle of full-bodied Malbec or aromatic Torrontés. The nation's winemaking roots can be traced back as far as the 1500s and today it is the world's fifth largest producer. This is all thanks to a terroir that combines mild climates and high altitudes in the foothills of the majestic Andes Mountains.
Here's an introduction to the country's major wine regions, with a handy recommendation of a bottle or two to purchase and enjoy at home.
Mendoza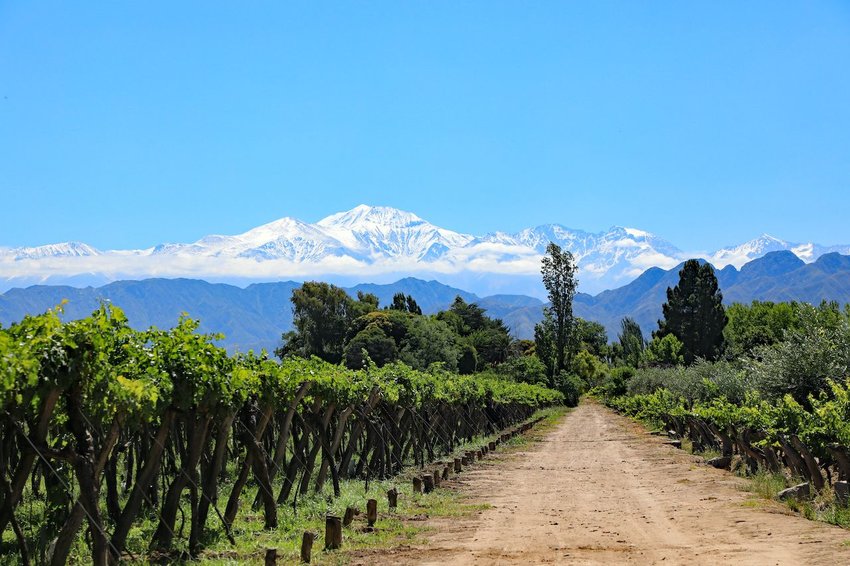 In western-central Argentina, Mendoza is the heartland of the sprawling wine country and a paradise for wine tourism. Endless miles of vineyards sit framed by snow-capped mountain peaks and dramatic landmarks such as 21,555-feet-tall Tupungato volcano. Among several hundred bodegas, around 150 are open for tourism activities, including tours, tastings, lunches, workshops and overnight stays. This is where the quintessential Malbec grape is grown in abundance; however, Bonarda, Cabernet Sauvignon, Shiraz and Tempranillo red wines are also popular. Malbecs are often the go-to at parrillas (steakhouses) and at an asado (barbecue). The term spoiled for choice doesn't really do it justice when discussing Mendoza's wine options.
For starters, you can check out wineries like Ruca Malen and Vistalba in Lujan de Cuyo, Bodegas Lopez and Tempus Alba in Maipu and Andeluna and El Enemigo in the Uco Valley.
Bottles to Try: El Enemigo Malbec 2016 and Ruca Malen Cabernet Sauvignon Terroir Series 2016
San Juan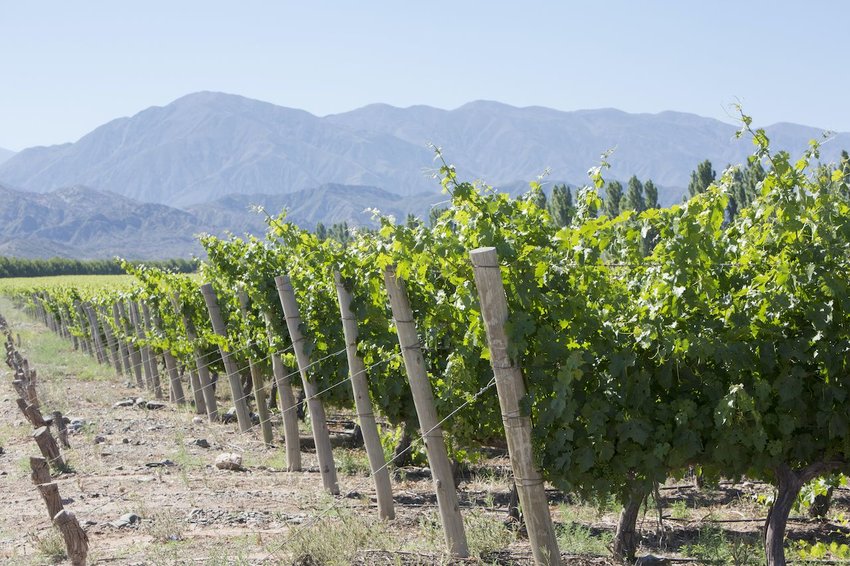 Directly above Mendoza is the province of San Juan, Argentina's second-biggest wine region, yet often overlooked in favor of its world-famous neighbor. The hot and dry climate of the province's Pedernal Valley make it ideal for growing Bonarda, Malbec and Syrah grapes. Syrah in particular is popular for its blending component, while the Malbec garners herbal sensations from aromatic plants. Fincas las Moras bodega is responsible for producing the Dadá label, which has become one of the nation's most successful. Bodegas Callia is part of a Dutch-owned wine group that includes the Mendoza-based Salentein winery. You can schedule a visit to El Leoncito National Park for stargazing and Andean vistas in between wine tastings.
Bottles to Try: Pyros Malbec Block No. 4 2014 and Graffigna Pinot Grigio Reserve Centenario 2016
Salta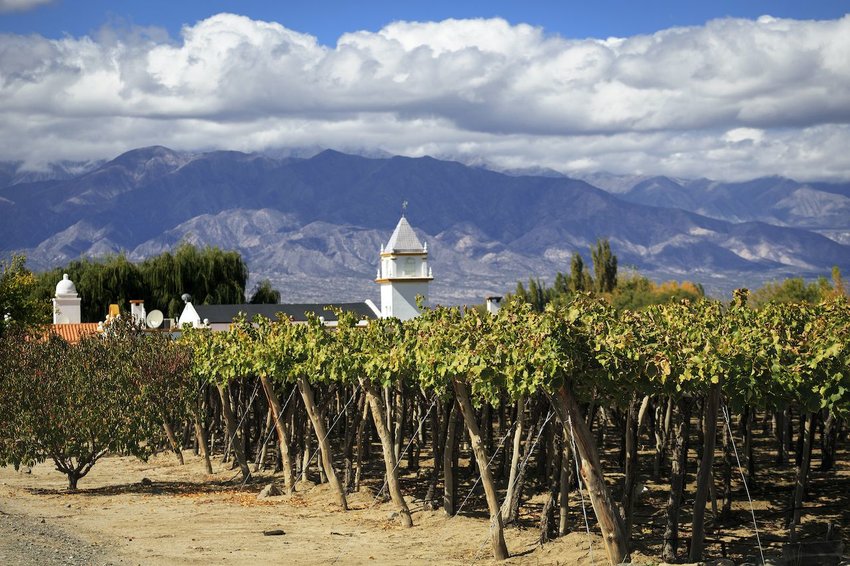 The northern province of Salta is home to a hip and trendy wine region nestled amid the breathtaking landscapes of the Calchaquí Valleys. This is the hotbed for growing Torrontés, a grape unique to Argentina that produces aromatic and smooth white wines that are earning cult status around the world, and that go great with meat empanadas and lean grilled rabbit. Salta's Ruta del Vino (Wine Route) focuses around the picture-perfect towns of Cachi and Cafayate. The best way to see it is to rent a car in Salta city and take a road trip along Ruta 40, the iconic national highway traversed by Che Guevara in his Motorcycle Diaries. Welcoming bodega stops are Puna, Colomé, Tacuil and El Esteco, whose whitewashed colonial-esque building guards the entrance to Cafayate.
Bottles to Try: El Esteco Torrontés Don David Reserve 2019 and Colome Malbec Autentico 2017
La Rioja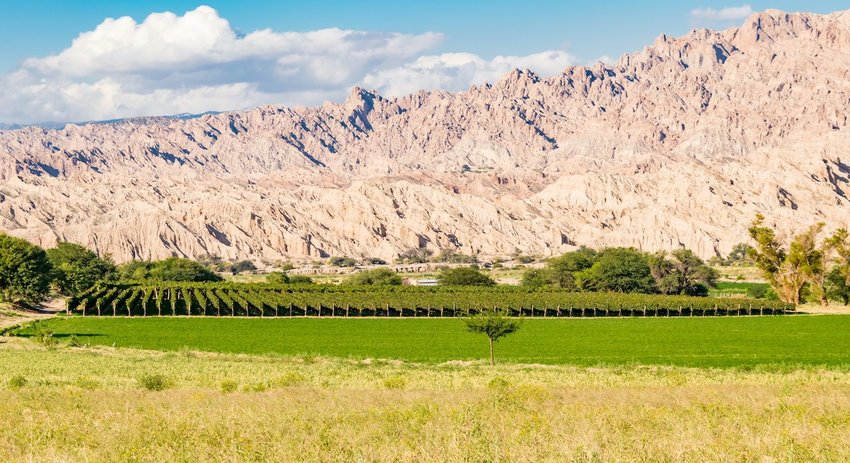 Despite being the third-largest wine region, La Rioja is somewhat of an off-the-beaten-path destination for wine tourism. That said, its dry terrain set between the Sierra de Famatina and Sierra de Velasco is prime for the production of high-quality wines. The province also lays claim to the oldest national viticulture, with Spanish missionaries planting the first vines during the 16th century. Similar to Salta, La Rioja is big on Torrontés in addition to Bonarda and Cabernet Sauvignon. Try them at Bodega San Humberto and Valle de la Puerta. When not sipping wine you can discover immense sandstone cliffs and ancient rock art at Talampaya National Park.
A Bottle to Try: La Puerta Alta Bonarda 2009
Patagonia
For many, Patagonia is more commonly associated with arid deserts, glaciers, lakes and vast grasslands than wine. Nevertheless, the region's northern provinces of Neuquen and Rio Negro are making ways in the wine industry. With a cooler climate and higher altitude, the provinces's Andes irrigated vineyards produce more European-style wines. Pale-colored and fruity Pinot Noirs are the stars and a delightful accompaniment to Patagonia's lamb and game meat dishes. The terroir is also suitable for Cabernets, Semillon and Viognier. Wineries are more spread out than in other regions but Patagonia is ideal for road trips so there's plenty to enjoy between stops. If you make it then be sure to visit Aniello, Bodega del Fin del Mundo and Bodegas Verum.
Bottles to Try: Chacra Pinot Noir Barda 2018 and Verum Pinot Noir 2018
Cordoba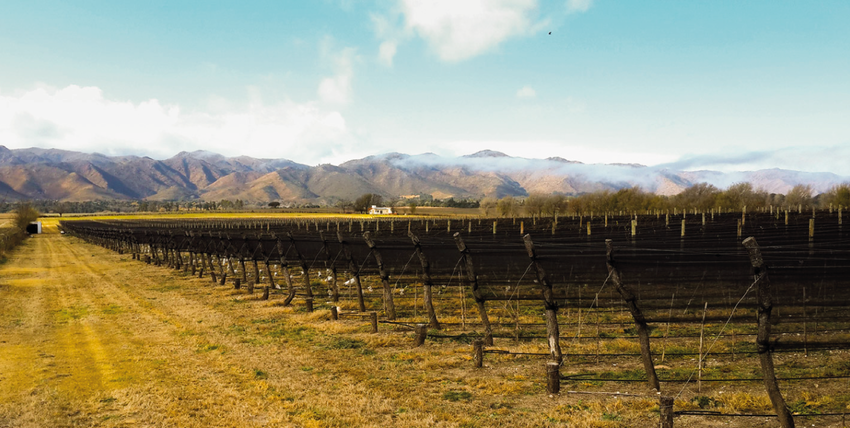 Córdoba is a northern central province known for its sprawling pampas and the Sierras de Córdoba mountain range. When Jesuits missionaries arrived here in the 1600s they would have been oblivious to laying the foundations for the province's burgeoning wine industry. A variety of climatic conditions allows for the successful growing of predominately Cabernet Sauvignon, Pinot Noir, Malbec and Isabella (raspberry). Cordobés wines are harder to come by outside of the country, but you can get an idea of what's on offer via Famiglia Furfaro, Finca las Breas and Jairala Oller.For some extra fun at home, get your hands on an Argentina Wine Regions map, and plot your dream bodega-hopping journey along the Andes.
About the author: Bradley O'Neill | Writer for The Discoverer
From as early as he can remember Bradley was road-tripping across the UK, France and Spain with his family. Since then he's visited 40-plus countries and lived on four continents. Today he divides his time between Buenos Aires and the beaches of Punta del Este, Uruguay and puts his wanderlust to good use by writing about his travels.
Full Article: https://www.thediscoverer.com/blog/argentina-wine-regions/
Photo: Jam Travels/ShutterStock